No dia 17 de março, sexta-feira, o IG receberá a visita de dois professores da Central Michigan University: Mona Sirbescu e Anthony Chappaz. Eles buscam novas oportunidades de colaboração e intercâmbios de estudantes que possam desencadear parcerias de pesquisa a nível federal entre EUA-NSF e Brasil. A visita ocorre a convite da docente do DGRN Maria José Mesquita. A Central Michigan University (CMU) tem recebido parcerias muito produtivas, incluindo estudantes de pós-doutorado e doutorado do Brasil
Professora Dra. Mona Sirbescu  
Petrogenesis of lithium pegmatites: From the field to lab experiments and back to the field again.
Professor of Geology, Earth and Atmospheric Sciences, Central Michigan University
Dados da professora Monalisa: igneous petrologist/geochemist with expertise in lithium pegmatites, including their petrogenesis, evolution at the magmatic to hydrothermal transition, and metallogenesis of critical minerals.
 
Professor Dr. Anthony Chappaz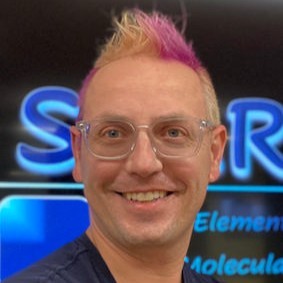 Molecular geochemistry: Advancing the study of trace elements.
Professor of Molecular Geochemistry, Director of the STARLAB (trace element Molecular Geochemistry), Dept. of Earth and Atmospheric Sciences, Central Michigan University
Cinco linhas de pesquisa do professor Chappaz: 
(1) um foco de Geoquímica Molecular que consiste em desenvolver novas técnicas analíticas para obter novos conhecimentos sobre processos moleculares que controlam reacções envolvendo elementos críticos; 
(2)  foco em Elementos Críticos que visa promover uma nova abordagem holística para (i)assegurar o nosso fornecimento de metais críticos e (ii)promover a mineração sustentável através do alargamento do âmbito e métodos tradicionais que têm sido aplicados na geologia económica. 
(3) um enfoque na História da Terra que trata do estudo de elementos traços dentro dos registos sedimentares com os objetivos de melhorar a nossa compreensão da oxigenação da Terra e do desenvolvimento da Vida; 
(4) um enfoque no Impacto Antropogênico que contribui para identificar fontes de poluição e prever a biodisponibilidade de micronutrientes (segurança alimentar) ou a toxicidade dos elementos traços com a ambição de reduzir o impacto das atividades humanas; e 
(5) Aplicações Médicas, o objetivo desse enfoque é colaborar com investigadores médicos na aplicação de novas abordagens analíticas para rastrear o comportamento dos elementos vestigiais dentro de tecidos, ossos ou órgãos específicos.